SPECTRUM
Light Installation

EN
Inspired by Newton's research on light, spectrum takes shape through an in situ installation, an anamorphosis, composed of several coloured light lines, creating a dialogue between the space and the spectator. The colors of each frame slowly change from red to purple, symbolizing the monochromatic components of white light and showing all the colors in the visible spectrum.
The light installation Spectrum was first created in summer 2019 thanks to Electric Castle festival in Bontida, Romania.
FR
Le projet Spectrum s'inspire de l'expérience de Newton réalisée au 16e siècle sur la lumière blanche : en passant à travers un prisme optique, la lumière se décompose pour laisser apparaître le spectre visible. Ce spectre prend forme à travers une installation in situ, une anamorphose, composée de plusieurs lignes lumineuses colorées, créant un dialogue entre l'espace et le spectateur. Les couleurs de chaque ligne passent lentement du rouge au violet et symbolisent les composantes monochromatiques de la lumière blanche.
Spectrum a été créé durant l'été 2019 grâce au festival Electric Castle à Bontida, Roumanie.

Spectrum, site-specific installation (computer, LED, wood, 212 x 256 x 180 cm)
Presented in Vanishing Points solo show from December 18, 2019 to March 22, 2020 / Marseille, France
Concept Design & Art Direction: Olivier Ratsi - Production: Second Nature and Zinc - Executive
 Production: Crossed Lab / Julien Taïb - 
With the support of the Conseil of Départemental des Bouches-du-Rhône - 
Technical Director: Thomas Leblanc - 
Light Design Support: Joan Giner - Construction: Julien Guenegou

Spectrum, light installation (polycarbonate tubing, metal, cables, wood, software, LED fixture, 5 m long, 4,8 m wide, 6 m high)
Presented at Electric Castle from 17.07. to 21.07.2019 19.10, Banifly Castle, Bontida, Romania
Curated by Alexandre Czetwertynski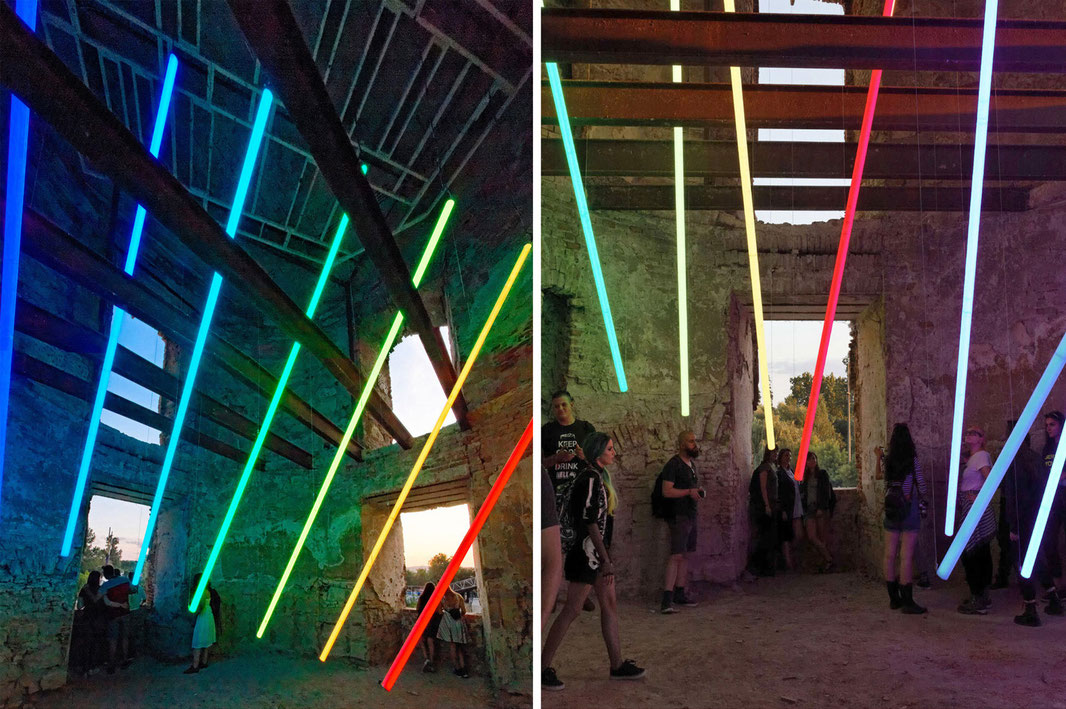 Concept Design & Art Direction: Olivier Ratsi - 
Delegate Producer: Crossed Lab / Julien Taïb - 
Technical Director: Thomas Leblanc - 
Light Design Support: Joan Giner